Costumed Singing Telegrams
The next time you want to deliver a special message, do it with a singing telegram. Our performer will arrive at your destination in the costume of your choice with a beautiful bouquet of balloons on the day and exact time you specify, weekday, weekend, day or evening.
Any occasion merits a singing telegram.   An appropriate song for that occasion, as well as a personalized routine about the individual recipient is included.   We can do this in an office, residence, restaurant, business establishment, store, or where ever.   Our talented singers can do a song for any occasion or reason. It can be funny, hilarious, outrageous, classy, tasteful, or any or all of these, according to your wishes.
Funky Chicken – PG Strip Gorillas – Bag Lady – Giant Banana Big Kiss – Belly Dancer – Elvis
Marilyn Monroe – Pink Elephant – Hula Gorilla – AngryBird – – Annoying Man – Comedy – Annoying Waiter – and Many More…
FLOOR SHOWS FOR MORE FUN!
Have a floor show event at your wedding or party. 15-20 minute programs with fancy costumes and professional acts.
Brad Crum Elvis Tribute: The King lives on through the extraordinary voice of Brad Crum. With a 3 ½ octave vocal range you'll think you are in the presence of the king himself. Unlike other impersonators, Brad can truly hit the notes!
Brad was the leader and drummer in a band for 36 years performing tunes that ranged from the soulful Elvis to rockin' Bon Jovi. Since the year 2000, Brad has performed as Elvis in many places across the United States, including Dewey Beach, Branson, Key West, and even Shanghai, China. He was also chosen to be the body model for Macfarlane Toys popular 6-inch Elvis "Aloha" action figure.
Brad captures the audience when he belts out songs like 'American Trilogy' and 'You'll Never Walk Alone'. He is available with or without a live band.
If you love Elvis you won't want to miss Brad Crum, the soul and sound of a legend.
From Marilyn with Love….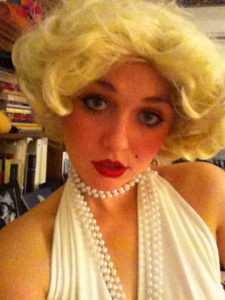 Celebrity Look-alike Tribute to Marilyn Monroe Show
Includes music, singing, dancing, and all the cheesecake moves you come to expect from impersonators.  Ask about availability .